This post contains affiliate links.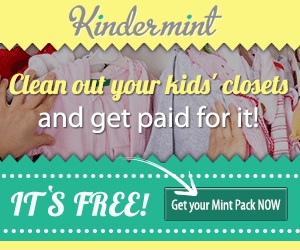 I wish Kindermint was around when my kids were younger (and wore kid sized clothes. haha). I bought them some nice outfits here and there and, being as they grew like weeds, they'd never wear them or outgrow them after wearing them once.

Clean out your kid's closets and get paid for it!

1. Order a free MINT PACK from Kindermint
2. Stuff the MINT PACK full of kids clothes you wish to sell
3. Drop the Pre-Paid MINT PACK in the mail (UPS or USPS)
4. Cash in! Your choice of check or deposit to your PayPal account.