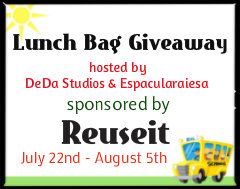 I received the opportunity, through my involvement with The Pitch List, to review Reuseit
Lunch Boxes.
I have been looking for something sturdy to use for hubby's lunch. He usually throws it in a plastic shopping bag. While that is convenient, and it allows us to reuse those bags that we get from the grocery store, I'd much rather find an alternative that will keep his cold food cold and is reusable so that I can recycle those shopping bags. I was having a hard time finding the perfect bag for him though because of the requirements:
1. It couldn't be girlie (I totally think he could pull off pink, but he doesn't even want to try! LOL)
2. It had to be insulated (He drives 30 minutes to work, and can't always get to the fridge immediately, so I needed something that would help keep his stuff cold).
3. It had to be large (he generally takes a couple of bottles of water, a couple of cans of soda, and his lunch, which is leftovers, pizza rolls, hot pockets, or something else that's quick and microwaveable. The ideal bag would hold all of it)
I chose to review the
reuseit 100% Made in USA Insulated Zipper-Top Lunch Bag, Large
in black/slate blue.
My first impression was "WOW! That's bigger than I thought!" It really is large! Per their site, the large
lunch boxes
are about 2 times the volume of a regular brown paper lunch bag. In my opinion, it's the perfect size for a couple of sodas, a couple of waters, a box of pizza rolls, and a snack!
Next the colors. The black/slate blue combo is so pretty together. My pictures do not do the slate blue justice at all. These colors are manly enough to make a man happy, but also not too manly for a female (Plus, they have other color combos, if black/slate blue isn't up your alley).
It's also insulated very well. I could see it keeping his lunch cool for quite some time!
Reuseit has offers all different kinds of lunch boxes. Whatever you are looking for, I'm sure you could find it with them.
I would gladly recommend Reuseit to anyone and would definitely purchase from them again in the future!
The Pitch List reviews:
Several members of The Pitch List were able to receive items from Reuseit to review. I would suggest you check out ALL the reviews and go ahead and like/follow these blogs, as we will EACH be giving away one free lunch bag like reviewed! Giveaway starts July 22, 2012!
DISCLAIMER:
No purchase is necessary to enter. Void where prohibited by law. The odds of winning are based on the number of entries received. This promotion is no way sponsored, endorsed or administered by, or associated with, Facebook and is Facebook-compliant. Winners will be notified by email from a 'Pitch List ' Blog. Winners will have 72 hours to respond or risk forfeiting their prize. Prize fulfillment is the sole responsibility of the sponsor. This blogs participating may not be held liable for Sponsors who do not fulfill prize shipments
.
Review Disclaimer:
I received the above lunch box to review due to my relationship with The Pitch List. All thoughts/opinions are mine and mine alone. I was not compensated for nor required to write a favorable review.